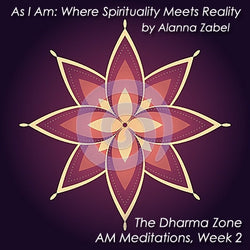 AZ I AM
I AM Grateful - As I Am, The Dharma Zone
The Dharma Zone, AM Meditations - Day 17. You will receive a download link after checking out.


The Dharma Zone 21-day "I AM" Program
Engineered with Binaural Sound
Engineered with Healing Chakra Resonance
The Dharma Zone program is a 21-day journey to discovering your true self and purpose, as published in Alanna Zabel's book, As I Am: Where Spirituality Meets Reality. The program includes daily meditation, yoga, journal, Mirror Theory exercises, self-care and a vegan menu with recipes. As I Am AM Meditations includes daily guided morning meditations for Week 1, Week 2, Week 3 or All.
Day 17: I Am Grateful - As I Am
Audio track includes binaural sound beats engineered to resonate with the energetic chakra centers of the body.
Headphones are advised. Please do not drive or operate machinery while listening to these meditations.