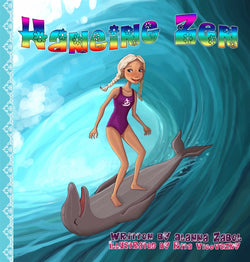 AZ I AM
Hanging Zen
Yama lives on the Hawaiian island of Oahu, and she loves the ocean. Every morning she walks the Waikiki Beach with her rescue animal friends, picking up any trash on the shore. She also loves to surf, and today she is competing in the Sunset Beach Surf Contest. All of the AZ.I.AM Girlz have traveled from all over the world to cheer her on. Just as she is leaving for the contest, she sees a distressed dolphin named Neha trapped in a fisherman's net. Yama rushes to help free the dolphin, knowing that she very well may miss the contest in doing so. Helped by a Zumba-loving pincher crab, Neha is freed. Being grateful for Yama's help, she returns the favor and gets her to the Surf Contest just in the knick of time.

Kids will learn the power of being kind, as well as the dangers that our oceans and sea life face today. Several of the AZIAM Girlz clothing designs are featured in the illustrations throughout the book. 10% of sales benefit the Natural Resources Defense Council.

Written by Alanna Zabel. Illustrated by Rita Vigovszky.
Available in Hard Cover and Soft Cover.

Accepting pre-orders. Will ship by September 25, 2015.