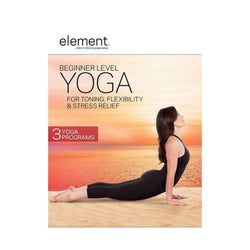 AZ I AM
Toning, Stress Relief + Flexibility Yoga
Filmed in a serene garden overlooking the Pacific Ocean, these three beginner level yoga programs are designed to help you receive all of the benefits that yoga has to offer and feel like you are getting one-on-one instruction in the comfort of your home. The Toning program focuses on toning muscle and building strength while emphasizing core stability. It uses traditional yoga poses as strength training exercises to create a beautiful and balanced shape for your entire body. The Flexibility program is designed to increase the flexibility in your major muscle groups and improve your free range of motion. The goal is to help you move through all of the activities of your day with ease and comfort. The Stress Relief program takes you through a slow moving sequence to calm your mind while unwinding away any stress from your body. It includes added breath meditation and verbal inspiration to help you to let go and relax deeply, free of any tension.

About the instructor:
Alanna Zabel is the founder of AZIAM Yoga, the author of As I Am, and creator of both Yoga Barre™ and The World's First Yoga Doll Collection™.  She has been teaching yoga, fitness, and Pilates for over 24 years. Voted 'Best Yoga Instructor in LA' by Los Angeles Family Magazine in 2011 and named one of 'Hollywood's Hottest Trainers' by Shape Magazine in 2014, she has also been featured in Self, Yoga Journal, People and on The Today Show. As one of the most sought after instructors in the country, Alanna's clients have included everyone from Hollywood executives and busy working moms, to 2005's NBA Rookie of the Year Emeka Okafor and Maroon 5's Adam Levine.
BONUS meditation included.