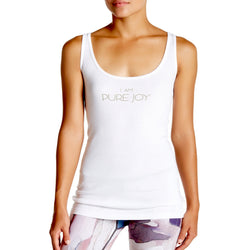 AZ I AM
Wife Lover® Tank - I Am Pure Joy
I Am Pure Joy Wife Lover Tank AZIAMs "I Am Pure Joy" Wife Lover features a "Pro-Woman" twist on the classic "Wife Beater." Custom made specifically for the Joyful Heart Foundation, this tank reads, I Am Pure Joy a bold message of courage, hope and empowerment. Each baby rib tank is custom cut, made of an organic cotton slub and lycra blend to assure a fashionable, sexy and comfortable fit. This tank features a gold mandala design on the right seam.
Sizes: XS(0-2), S(4-6), M(8-10), L(12)
Fabric: Organic Cotton 96%/Lycra 4%
Colors: White
Twenty percent of every sale is donated directly to Joyful Heart.